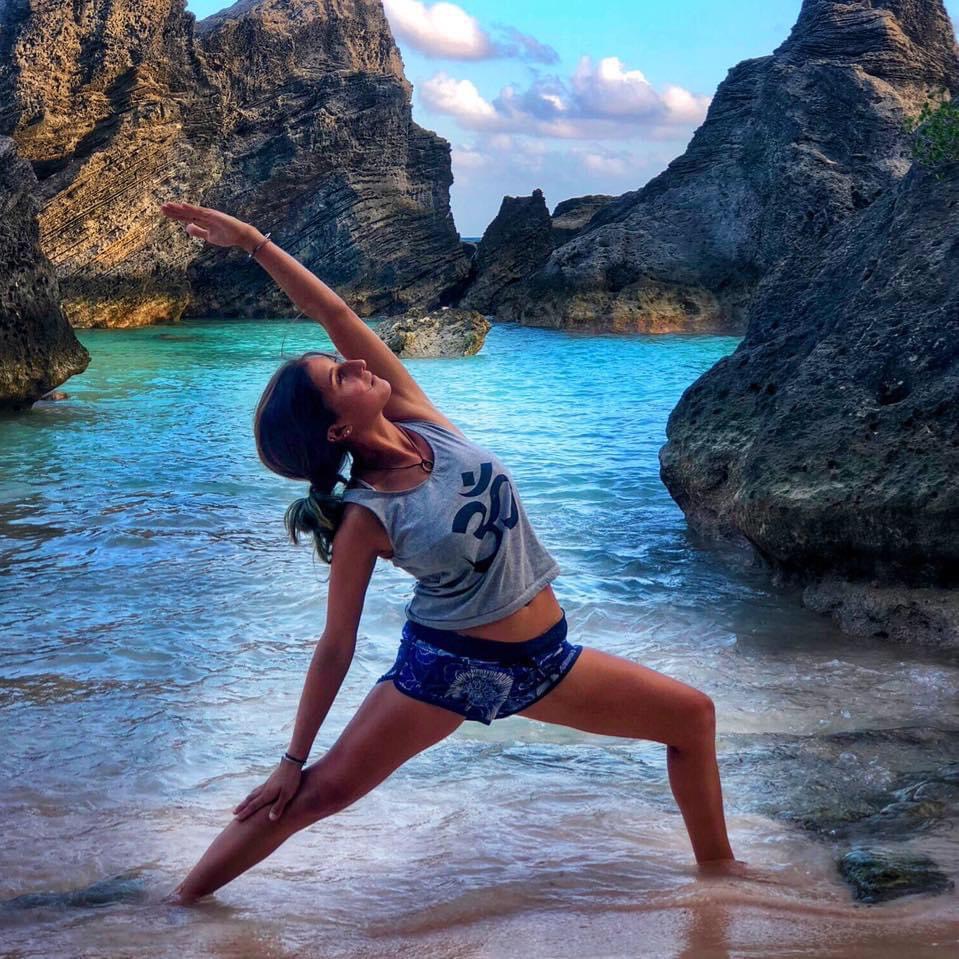 Caroline is a compassionate yoga teacher with an enthusiasm for celebrating her students' individuality. A dedication to the yoga practice has led Caroline down a path of self-discovery, self-empowerment and self-love. At the age of thirteen Caroline attended her first yoga class to recover from ballet injuries, but it wasn't until ten years later that she discovered the true healing power of yoga. Through tangible yoga practices, Caroline was able to overcome ten years of debilitating panic attacks and learn the beauty of living in the present moment. It was because of yoga that Caroline was able to develop self love and to step into her power after years of severe anxiety and body image issues. Since embarking on her spiritual journey, yoga has made it possible for her to transform her life into one she had always dreamed of: living in the Caribbean.
Caroline's mission as a yoga teacher is to create a safe space in which others can explore their mind, body and soul, while venturing on their own yoga journey. She received her 200hr RYT certification in 2018 and has been teaching Vinyasa flow and restorative style yoga classes through a donation-based yoga studio, dance studio and non-profit organizations. Caroline is a dedicated student of Patanjali's eight-limbed yoga system, applying these principles to her teachings. She enjoys finding new ways to incorporate yoga philosophy into modern life in order to create a happier, healthier, more conscious lifestyle for her students. With the focus on the breath as one's greatest guide and healer, Caroline's classes encourage personal exploration. Caroline has the natural ability to make everyone feel welcome, comfortable and successful in her yoga classes. Her highest vision is to hold space for others as they embark on upon their own personal journeys.
Caroline LaFauci is definitely my favorite yoga teacher on St. Thomas. I have gone to many of her studio classes over the past couple years and I am always so inspired after each one. She has such a wonderful energy and positive presence and she really makes everyone in her classes feel so comfortable and supported. I have always noticed that Caroline finds a way to really connect with each student in such a personal way. I have really learned so much from her. I love that her classes are always changing, it keeps it so fresh and fun, while being so thoughtfully put together. She is always having so much fun teaching class and it really rubs off on everyone and energizes the whole class and creates such an amazing atmosphere.
Practice Yoga With Us For Free
Get your all-access pass to premium online yoga classes.
Unlimited access for $15/month.
Cancel at any time. 100% money back guarantee.